THE EARLY DAYS OF RALLYING IN NEW ZEALAND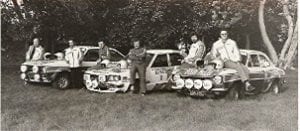 In the early days, part of New Zealand 's motorsport scene consisted of car trials, timed events designed to keep to the legal speed limits. Then in the late 60's the influence of European special stage rallying (closed roads where drivers could go as fast as possible) started to take over. New Zealander's (Kiwi's) took to this new form of motorsport like ducks to water. Our smooth flowing gravel public roads, and the abundance of well maintained Government Forest roads, saw the early days of Rallying quickly build to the level that it is at today.
The first New Zealand event that I have on record, and that was based on international speed timing principles, was the 1966 Rally of the Pines, organised by the Hamilton Car Club. It is reported to have taken place near Taupo, the scene of many early car trials. The Auckland Car Club also organised a similar type of speed event, in August 1966, called the Midnight Madness Rally. It ran through the night-time, using back roads between Port Waikato and Huntly. Blair Robson won this event in a Mini.
The following year, on May 21 1967 , the Hamilton car Club organised Rally of the Pines event, was again held in the forests north of Taupo. The emphasis was now more on driving, with the 41 entrants able to experience speed and conditions they would not normally encounter on public roads. Drivers in these early events made use of little more than road going cars. The 1967 event being won by Bill Purvis, in of all things a Ford engined Morris Minor 1000. The event was voted by drivers a resounding success and word soon spread about this new test of man and machine.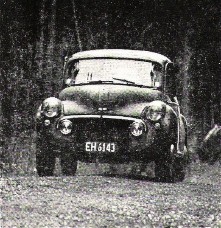 The Silver Fern Rallying name was then set to begin it all in 1968, but the event was postponed due to insufficient entries. This was caused more by lack of pre event information and bad timing than anything else.
So the first true high speed special stage rally, using closed roads, happened in April of 1969. Having been given more time and promotion, the Shell sponsored Silver Fern Rally, was again organised by the Wellington Car Club. Starting from Taupo, 32 competitors made their way through a series of closed road special stages, some up to 30 miles in length, up to Auckland , and then south again to the finish in Wellington . The event saw 22 finishers, with the overall winners being Grady Thompson and Rick Rimmer in their Holden Monaro V8. Other notable names in the finishing list were, Paul Adams, Neil Johns, Jim Richards, and Colin Taylor.
The South Island was then the venue for the 1970 Silver Fern Rally, again sponsored by Shell. This time the Canterbury Car Club organised the event, where there were 67 starters. The 32 special stage event covered 460 miles, and was won by Paul Adams and Don Fenwick using Paul's mother's BMW 2002Ti. Mike Marshall won more stages than anybody, in a purpose built 1600cc Anglia , but finished down the field. The media were now beginning to take notice of this Rallying, with radio and television closely following the event.
Also in 1970 a so called round of the South Pacific Rally Championship was mooted for the Wellington area, but the event and the series never got off the ground.
A change of name in 1971 to the Heatway Rally saw New Zealand achieve some international status. There were 15 entries from outside NZ, and several local Dealer supported "manufacturer" teams. The NZ Motor Corporation had a team of Minis, with their lead driver Scot Andrew Cowan, while Todd Motors used Hillman Avengers, and there were plenty of Ford's, Skoda's and Holden's. Australian pairing Bruce Hodgson and Mike Mitchell driving their MKII Lotus Cortina were the winners from Kiwi pairing Ralph Emson and Wayne Jones in a Holden Torana GTR-XU1. The event covered 3000km with 48 special stages, and ran from Auckland to Wellington over 6 days.
For the North Island Heatway Rally of 1972, Andrew Cowan was back vowing to make amends from his poor performance the year before. He duly won in the nimble Mini Clubman 1275 GT, with kiwi Jim Scott co-driving. Mike Marshall again won more stages than anybody but due to a series of mishaps he finished 48 th.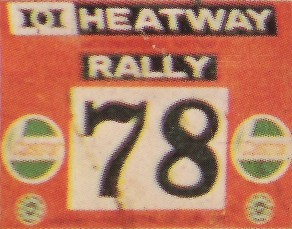 In these early days, there were few events held other than the large Silver Fern, and Heatway International's. By the mid 70's this changed dramatically and there were events held by many Car Clubs throughout the country. Events, like the Waitangi, Woodhill Forest, Maramarua Forest, Ngaumu Forest, Tokoroa and Rotorua, in the North Island, as well as events in the South Island, at Canterbury, Otago, Westland and Southland. Some of these events continue in similar formats today.
New Zealand's, largest by far, International Rally was held in 1973, The Heatway sponsored event taking in many night-time special stages, and extensively covering both islands. The Woolmark Ford team entered two "works" Escort RS1600's. Hannu Mikkola / Jim Porter were popular winners in one of the cars, with locals Mike Marshall / Arthur McWatt second overall. Mike had used his own RHD body shell, but had transferred the "works" mechanicals from the second LHD car. On the event Mikkola pulled away and won easily, using his considerable European rallying experience.
Many drivers had learnt from previous years, of the need for faster, better prepared cars. So began the serious importation of "ex-works" and factory built cars, with three Ford AVO built, Ford Escort RS 1600's also coming to NZ for the 1973 event. These cars were sequential in their registration numbers, being GK778 (George Kuttel), GK779 (Jim Richards – Dulux Ford Team) and GK780 (Blair Robson – Woolmark Ford Team). It is interesting that the 780 plate numbers would later became a feature of NZ Rallying, with the Blair Robson – Jim Donald Masport team cars using 780 as their "lucky" numbers.
The Heatway Rally then gained and lost it first International World Rally Championship status, when the major event was cancelled in 1974, due to the world fuel crisis. Another event, the 1974 Commonwealth Games Rally, which was set to finish at the Games venue in Christchurch was also cancelled.
In 1975 international rallying was back, but not with world recognition. The Auckland to Wellington event drew international starters from Australia and New Caledonia . Mike Marshall won the event in New Zealand 's first MKII Ford Escort RS1800. His team had transferred the mechanicals from his older MKI RS1600 to a brand new body shell, which had been specially imported by Ford, as an example for the new production line.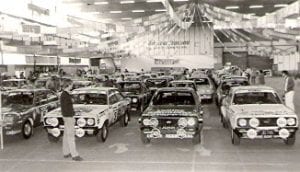 The South Island was the venue for the 1976 Radio NZ Heatway Rally, an event which saw some of the most difficult rallying conditions ever in New Zealand . It came in the form of snow and ice, and used roads like the now infamous Black Forest around the side of the Benmore Dam. Andrew Cowan won the event in a Hillman Avenger, again with the help of kiwi co-driver Jim Scott. First locals home were Blair Robson and Chris Porter in their Masport Escort RS1800.
1977 saw one of those events, which older rally fans will remember well. The battle between the three works Fiat Abarth 131's and the Masport Ford Escort RS1800 driven by a young Ari Vatanen. The event which started in Wellington , took in some very long stages north of Wairoa on the East Coast, and it was in one of those long stages that an ever trying Ari Vatanen caught and passed all 3 Fiats. Vatanen saw more of the scenery than most bringing the battle scarred Escort home just 1-1/2 minutes behind eventual winner Fulvio Bacchelli. Bacchelli's Fiat was suffering serious engine problems and only made the finish ramp with minutes to spare. Rod Millen's Mazda RX3 came home as first New Zealander in 5th place.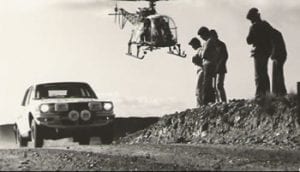 25 years ago in 1980, The Motogard Rally was held in the Nelson and West Coast area, and is an event now famous for the four entries from the huge Mercedes Benz 500SL works team. Also famous that year, were the numerous water crossings, many of which caused considerable carnage amongst the competitors. Paul Adams' Vauxhall Chevette was one of those, but despite losing a lot of time drying out his electrics, Paul and co-driver Jim Scott were first resident finishers in 6 th place.
While New Zealand rallying is still relatively strong at grass roots level today, the cost of performing competitively at the international level is now beyond most teams. However a class for less powerful 2 whee drive cars, and the worldwide resurgence of classic and marathon rallies, like the Dunlop Otago event, and the forthcoming NZ Silver Fern Rally, is seeing a return of competitors, cars and spectators to the sport.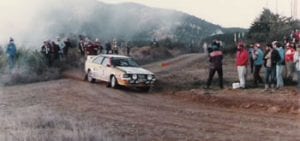 Information sources, Motorman Magazine, Autonews Magazine, Motoraction Magazine, and various Car Club and Rallying publications.
*While every endeavor is made to confirm facts, the possibility of errors will arise. To this end I stand to be corrected. ©Paul Smith 2005